Description
The brace fits snuggly to the ankle and offers comfortable pressure around the joint. The non-elastic functional straps crossing on the outside of the ankle leave the instep free. The Push Sports Kicx offers the best possible protection against ankle sprains during sports.
Main Features:
Stabilises the ankle during sports after a sprain or in case of instability
Prophy-X strap system is based on professional taping techniques
NThe strap system is anchored to the reinforced inside of the brace
Gives comfortable and secure feeling through an individually adjustable compression
Keeps ball-handling and other sports-specific freedom of movement intact
Ultra-thin and super light
In order to work properly, the Push Sports Kicx should always be worn with shoes. Can be worn over a thin sock.
Prevents ankle rolling
Specially developed for soccer and netball
To prevent recurring inversion trauma
In the event of ankle instability
Sizing: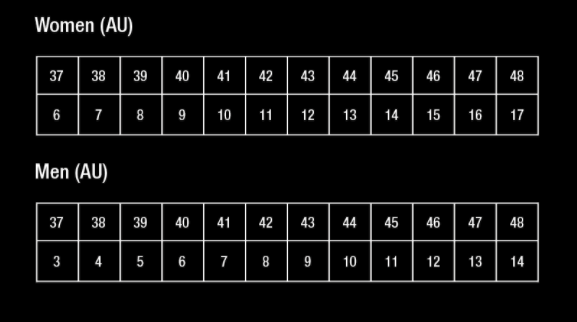 How To Apply:
1. Open the three hook and loop fasteners and pull the brace over the foot. The heel section of the brace needs to fit snugly around the heel. Ensure the entire elastic base fits closely against the foot and is not twisted.
2. Place the foot at a 90 degree angle and put the stiffener on the inside of the ankle in the correct position behind the malleolus (ankle bone) by tightening and fastening the small strap with the single blue mark. Note: The stiffener should not touch the malleolus.
3. Then tighten and fasten the small strap with the two blue marks.
4. Fasten the elastic strap to desired tightness around the ankle.